Description
Supports Wireless & Wired Connections:Apple Carplay&Android Auto / Mirror link /Only wired AutoLink/ USB Multimedia Player/ TF Card Multimedia Player / Cam in/ AUX output

Screen: 9 inch HD IPS capacitive Screen 1024* 600

Support Voice Controls: Apple Siri & Android voice control & Google.

Multimedia Playback: USB + CAN IN +TF card Multiple input ports

Built-in: 5G WiFi + Bluetooth 5.0

Light-sensing: Automatically adjust the screen brightness according to the ambient brightness

EQ effect:Many different sound effect options

Three kinds of audio output: FM transmitter/AUX cable/ Built-in 3W speaker

AUX output: 3.5mm RCA

Operating Voltage: DC 12V-24V

USB Port: 5V 2.1A

FM Frequency: FM 87.5 MHz to 108 MHz

Installation Type: Easy Disassembly, Dashboard or Windshield

Bracket Type: Portable Sticker Bracket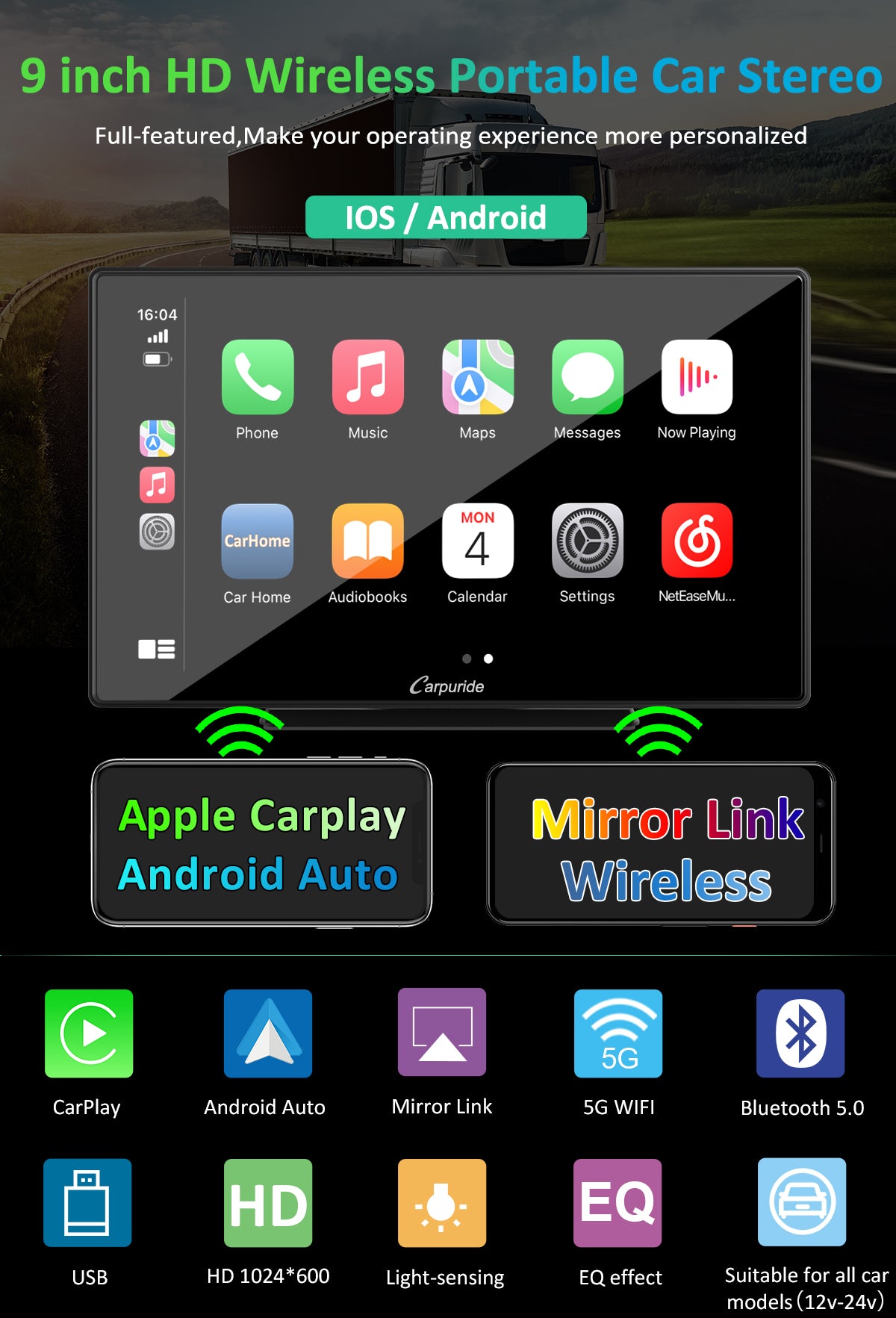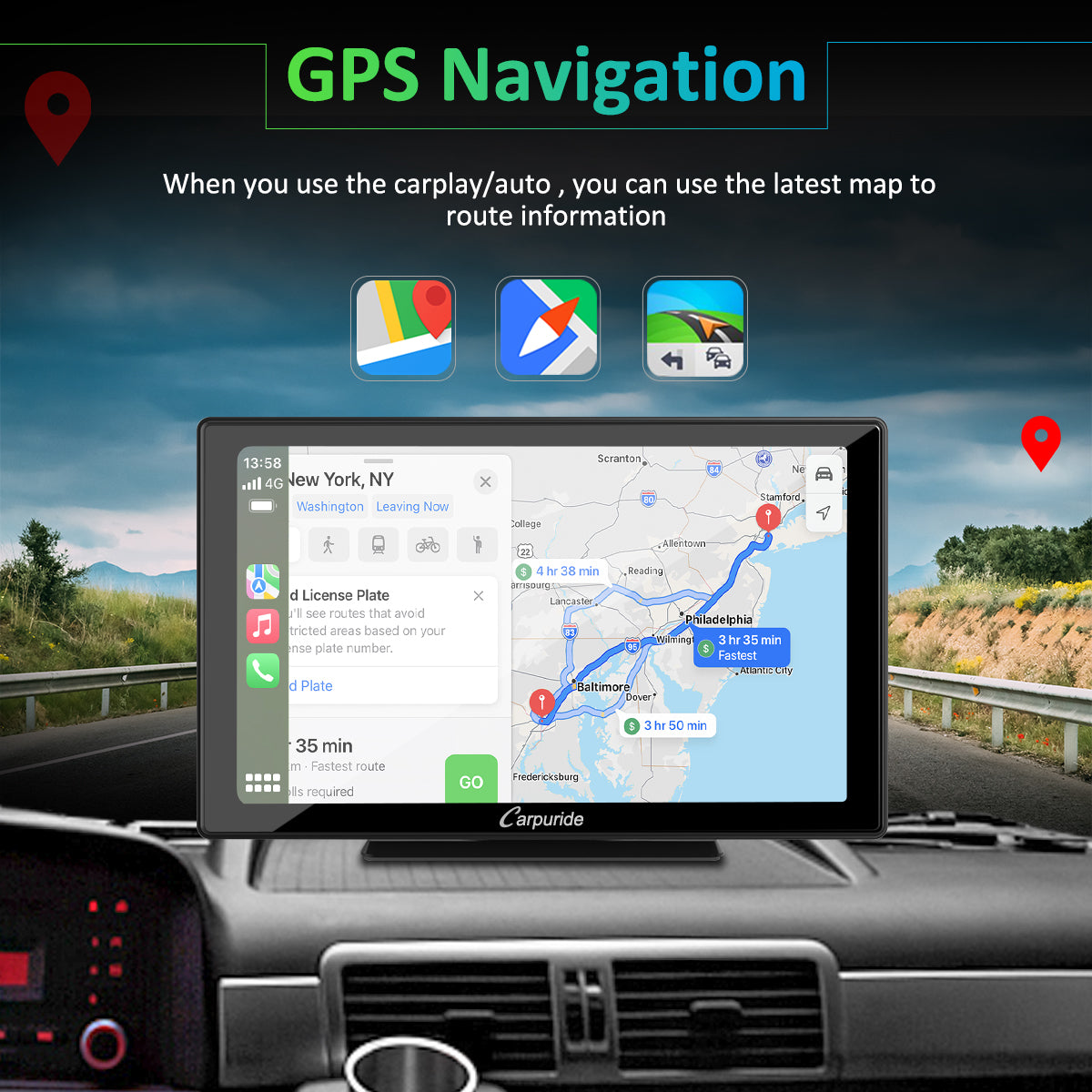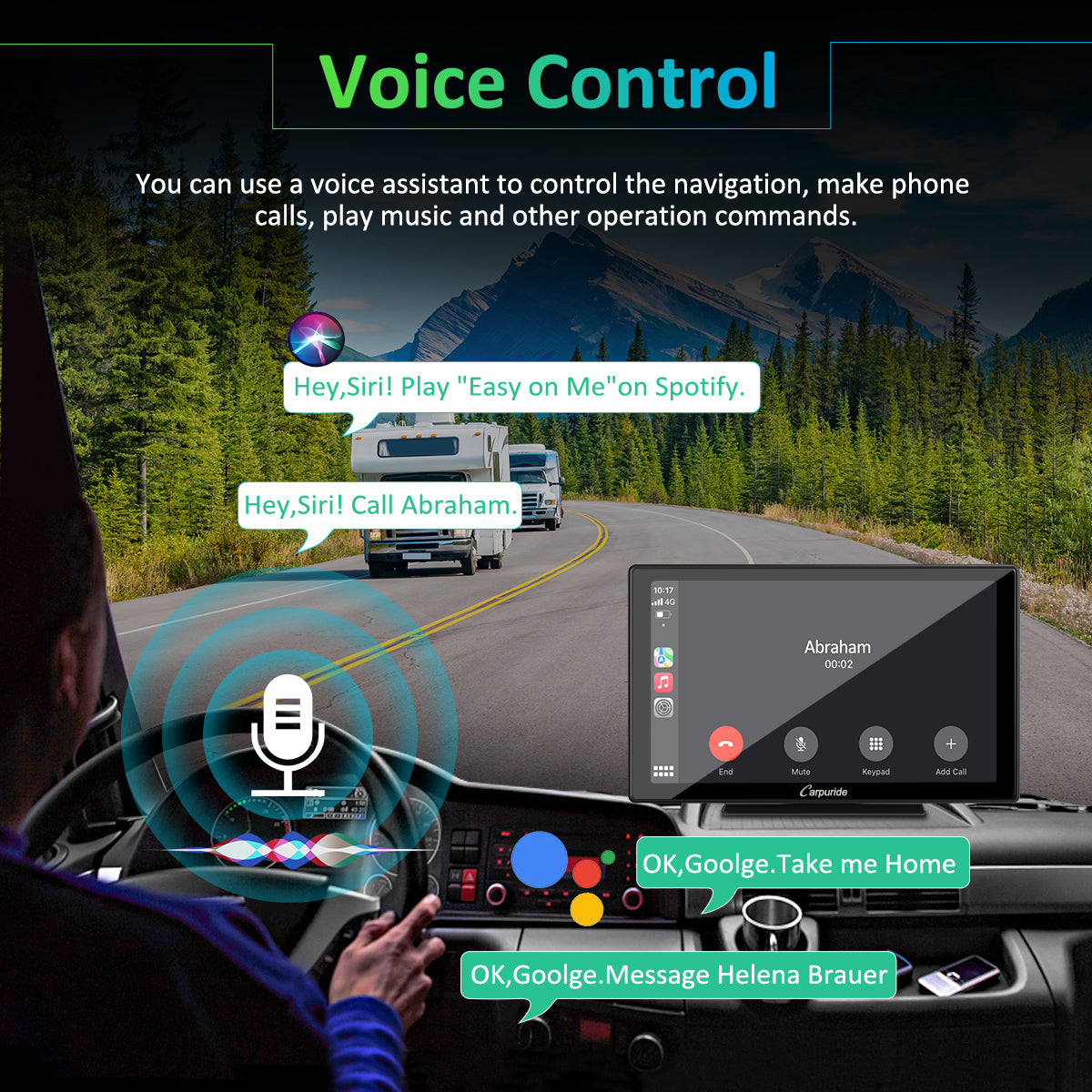 The portable car stereo is equipped with the latest voice control technology. allowing you to make phone calls, navigate, play music with the help of an intelligent voice assistant.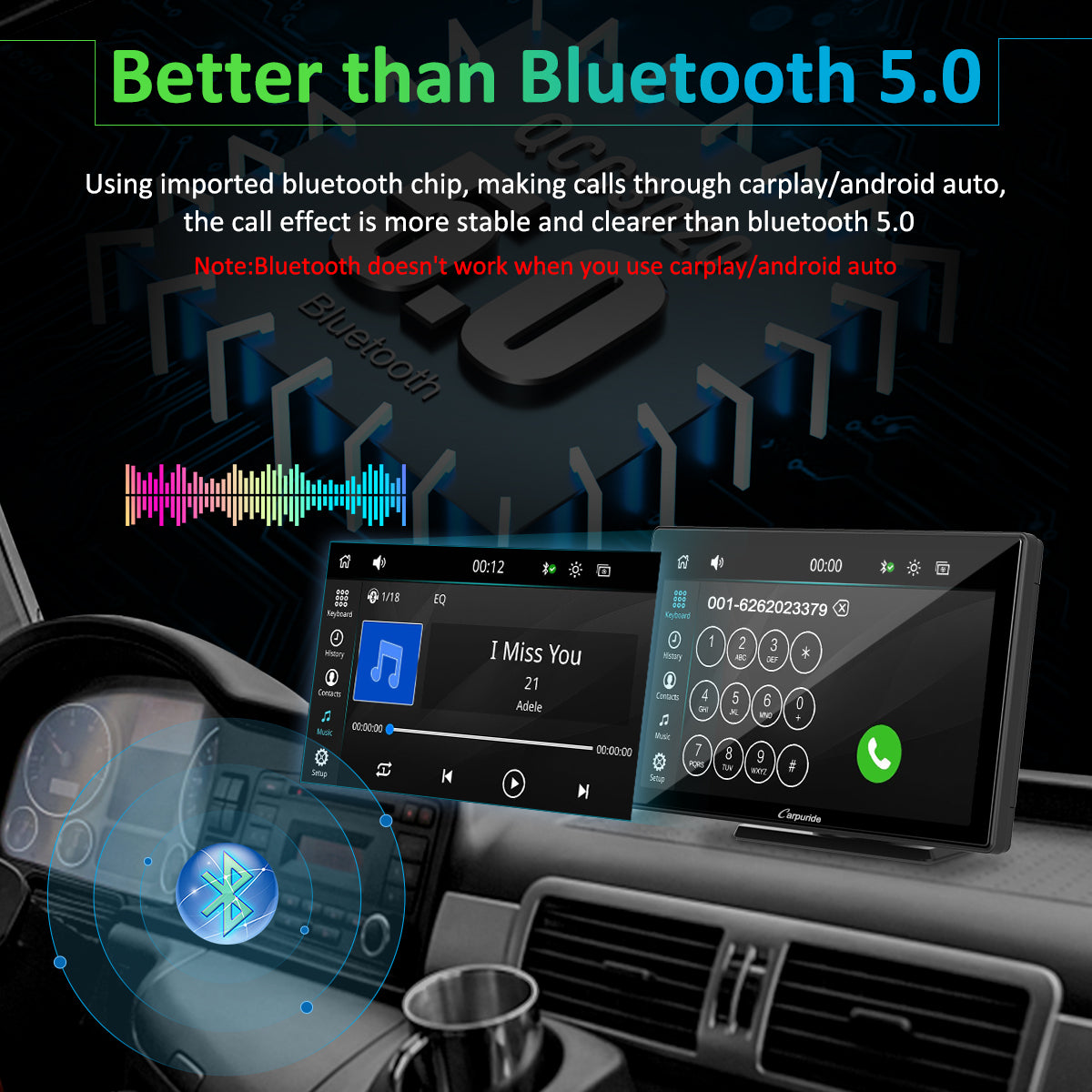 Built-in higher specification dual-channel imported Bluetooth 5.0 chip, the Bluetooth signal is more stable. When the car stereo is paired with your phone via Bluetooth, you can make smooth hands-free calls, music playback and control. Driving is safer and more convenient.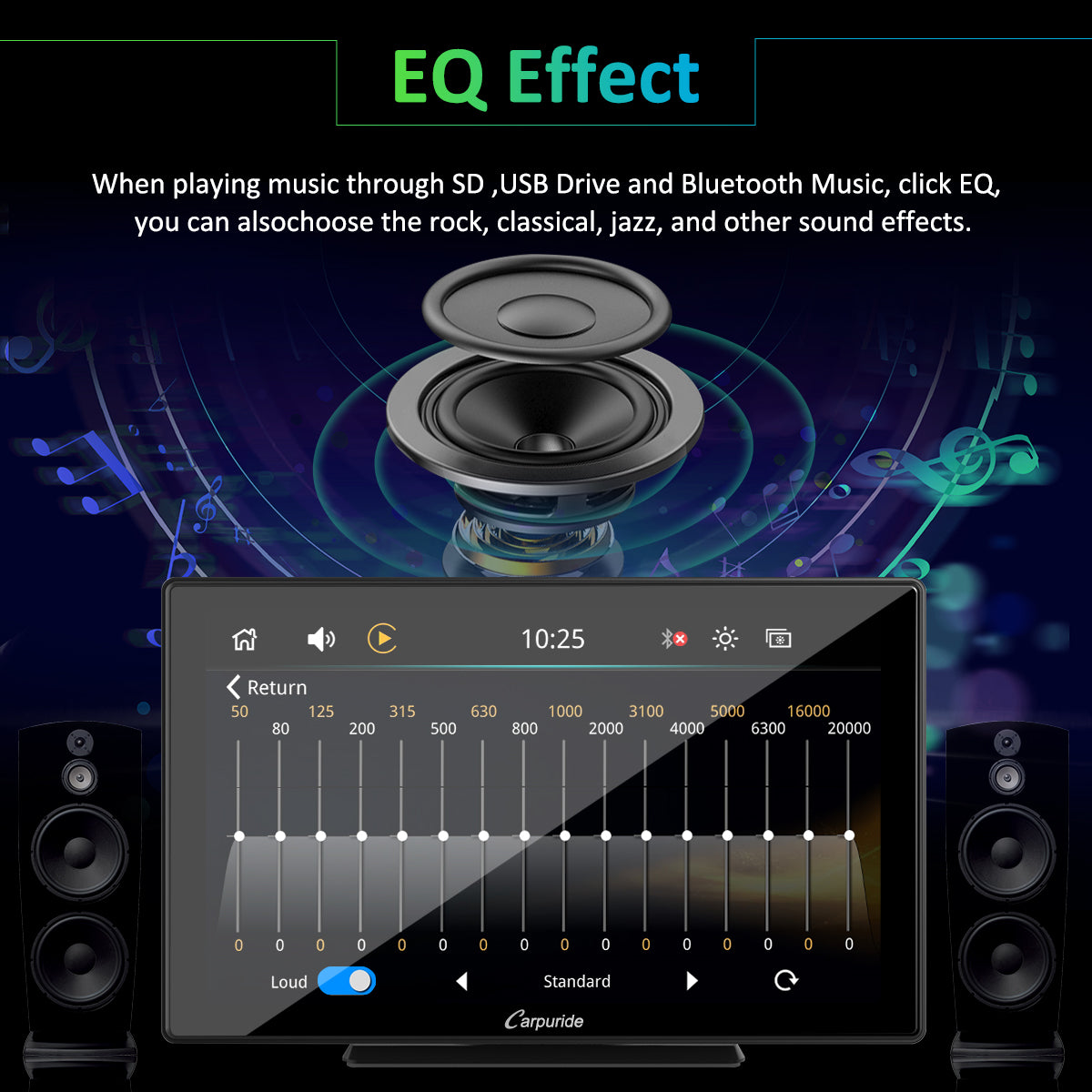 When playing music through SD ,USB Drive and Bluetooth Music, click EQ,you can also choose the rock, classical, jazz, and other sound effects.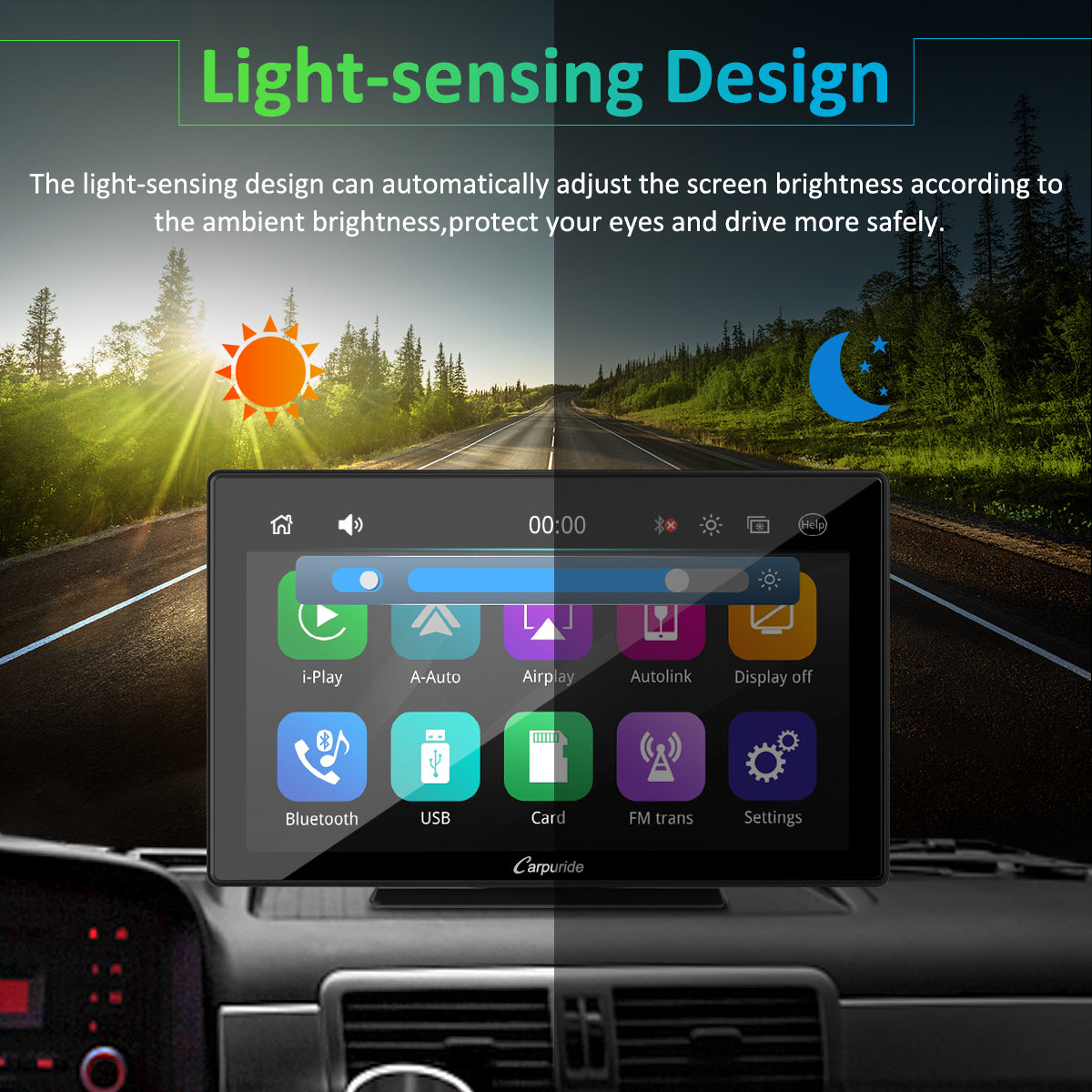 The light-sensing design can automatically adjust the screen brightness according to the ambient brightness,protect your eyes and drive more safely.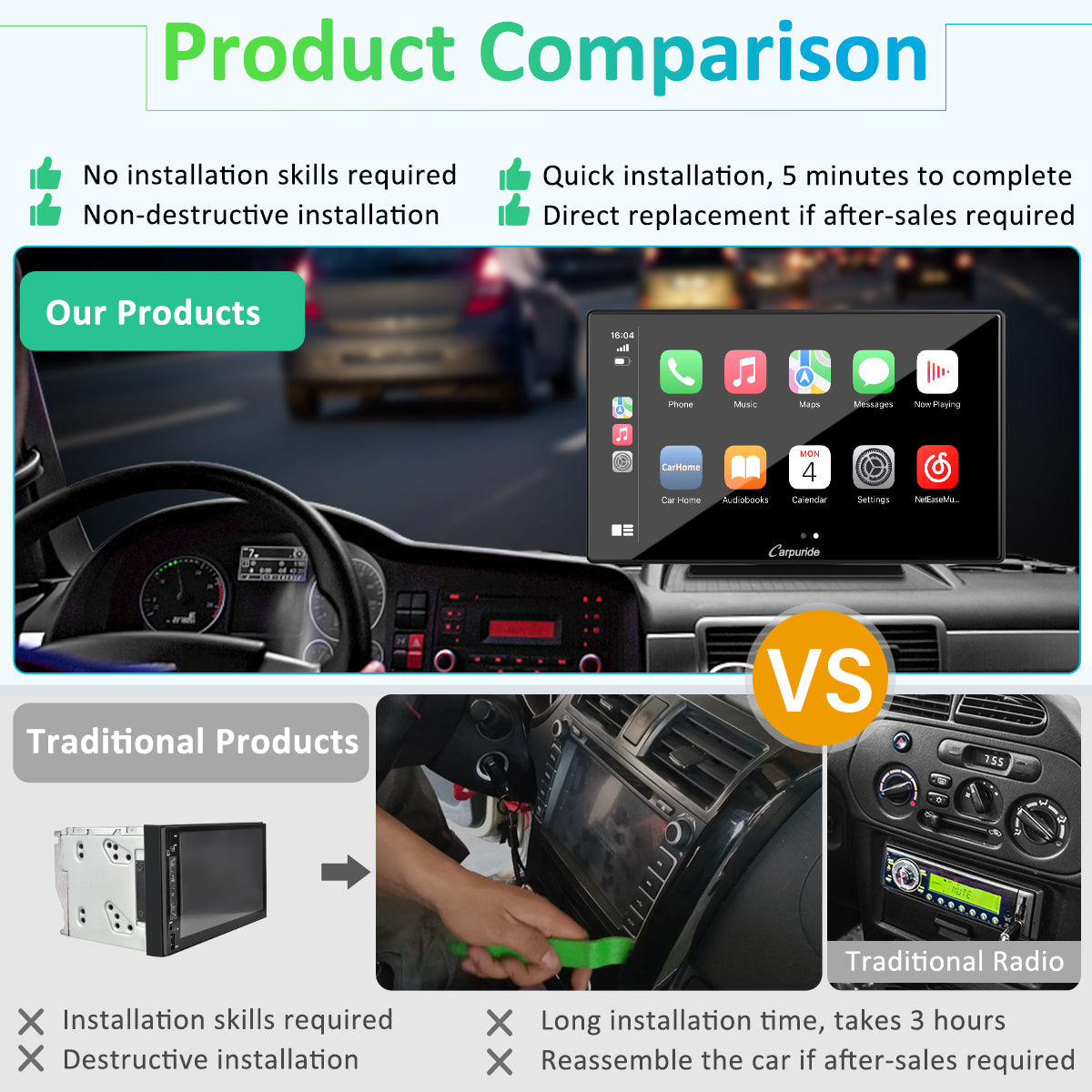 9-inch IPS touch screen car stereo, resolution 1024 * 600, support 1080P video playback, enjoy a full set of large-screen movies, maps and other features.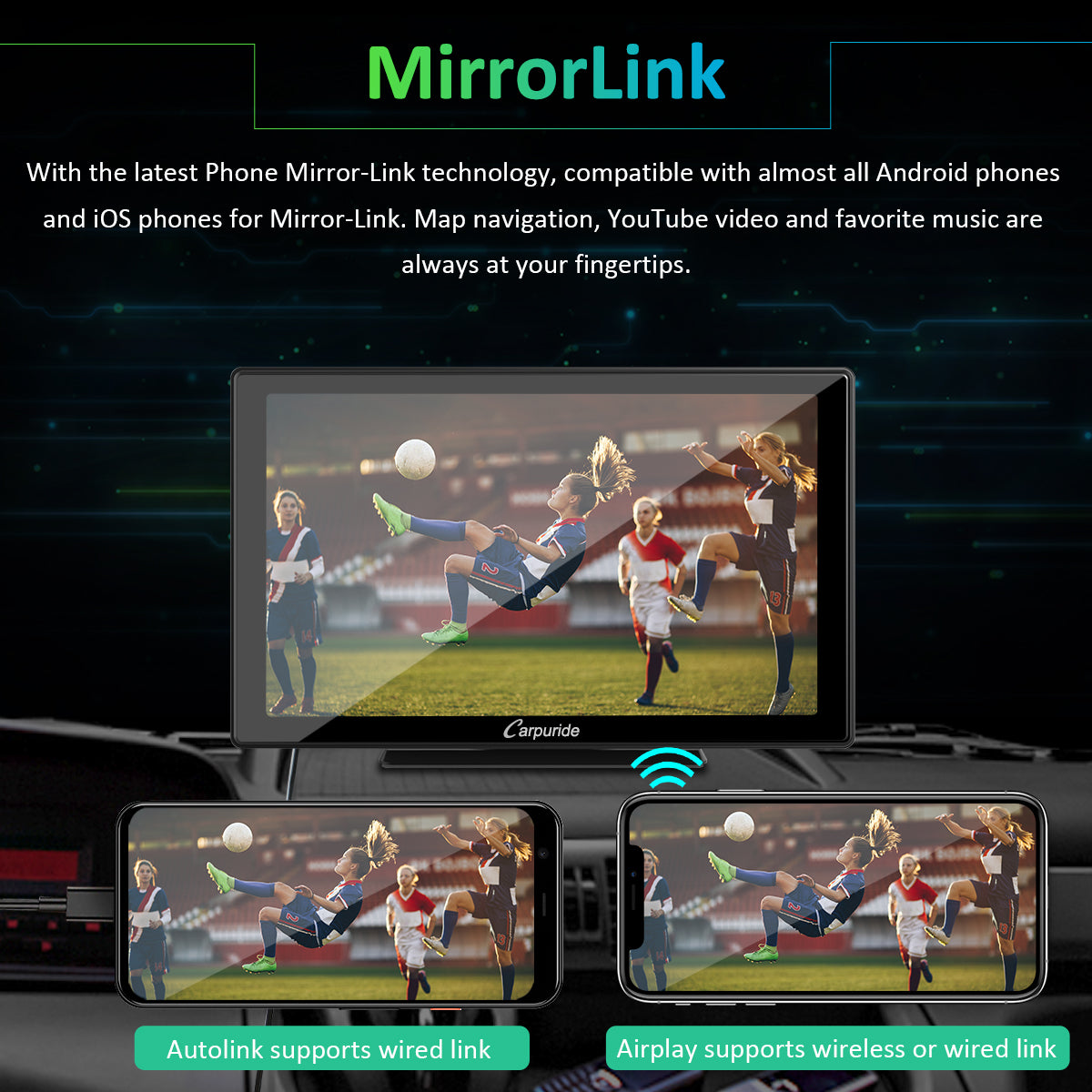 Wireless /wired connection Android auto & Apple CarPlay & Airplay. Wired connection only AUTOLink. After connected, you can watch video, make phone calls, navigate, play music.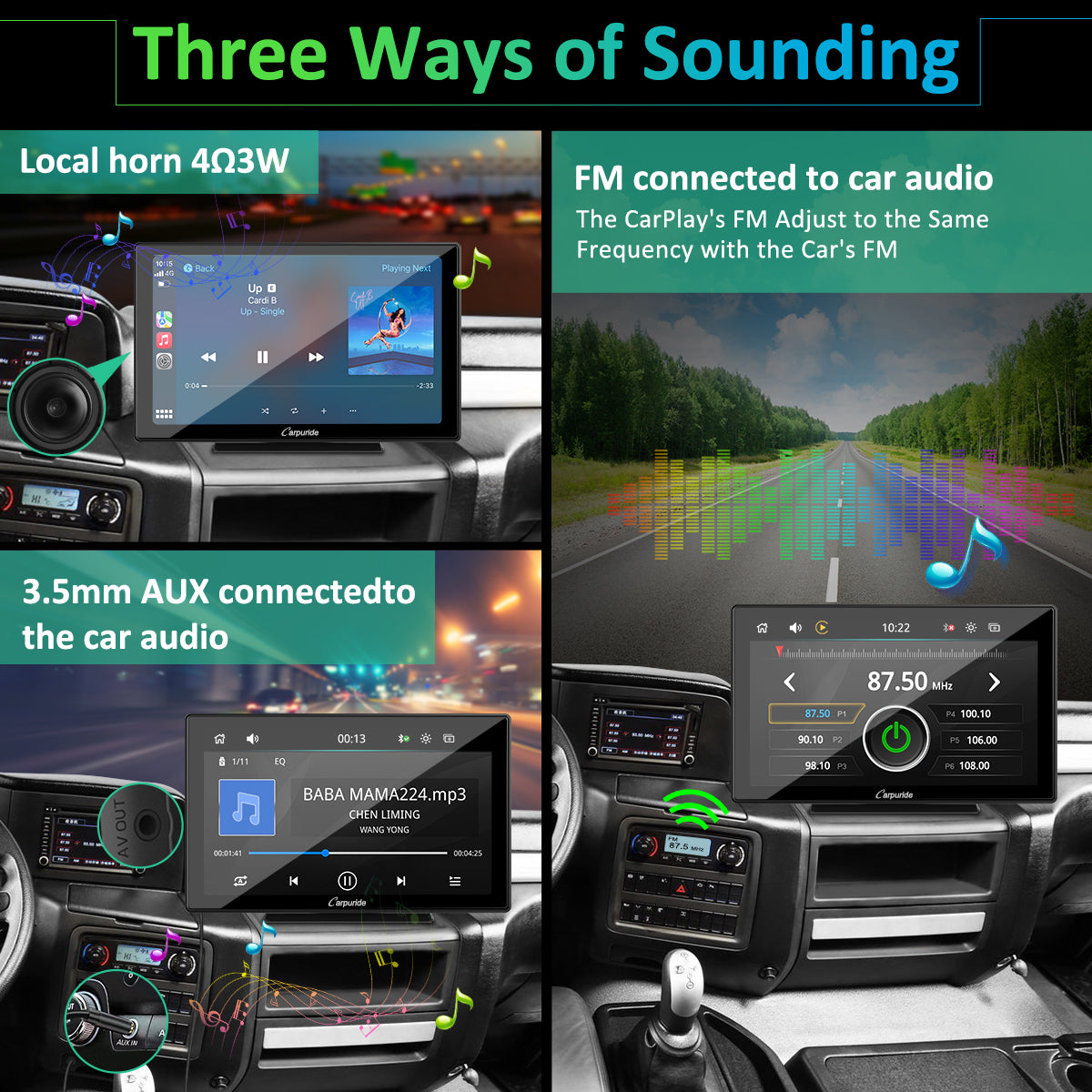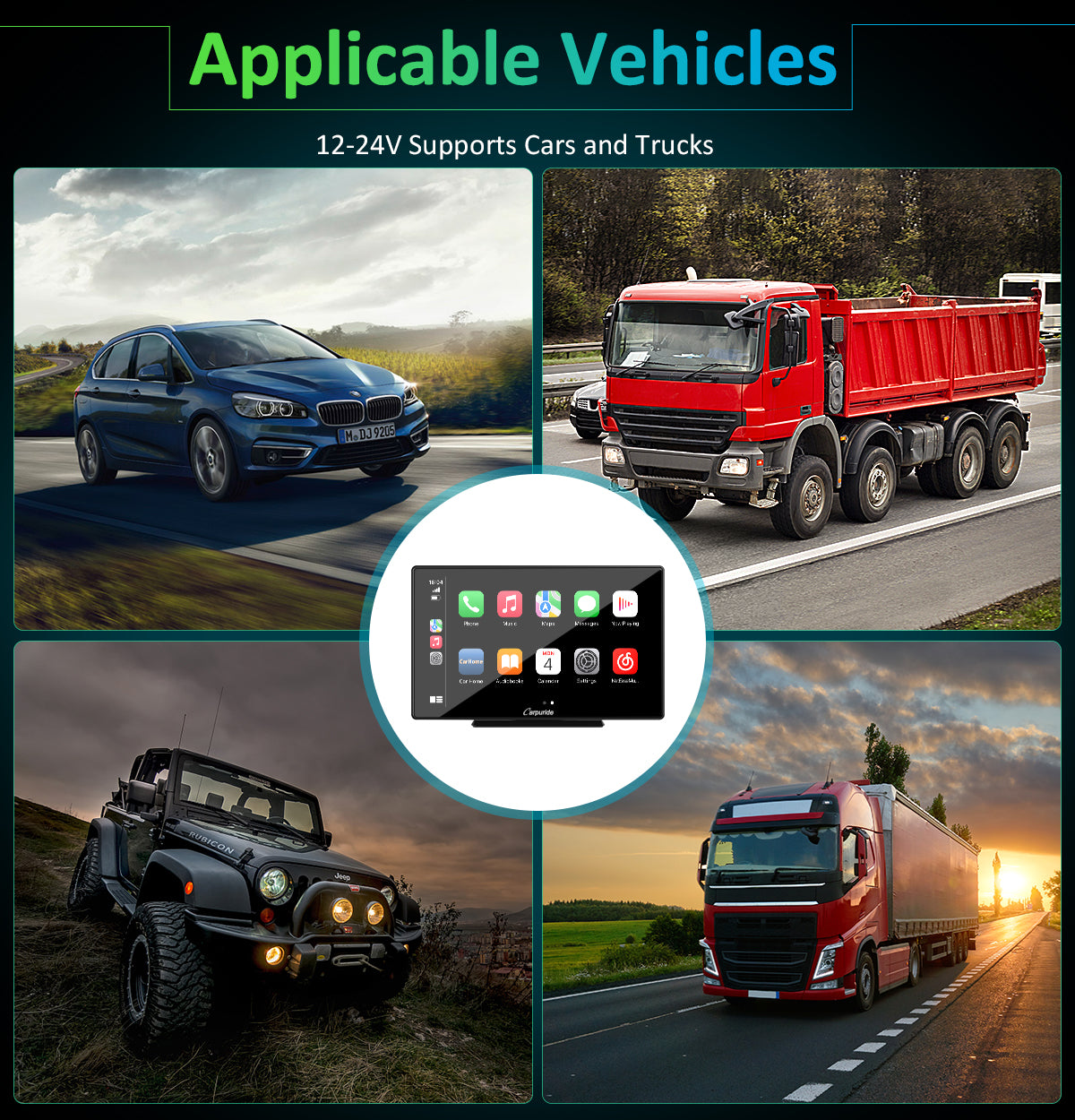 Compared to the normal car stereo 12V voltage setting, we have 12-24V. Both cars and trucks can be used. The normal 12V car stereo is only suitable for cars, not trucks. And with a USB output of 2.1A, it can also be charged when connected to a mobile phone.
Note: As it is a large 9" screen, it is recommended for use in large trucks. Smaller vehicles may obstruct the view.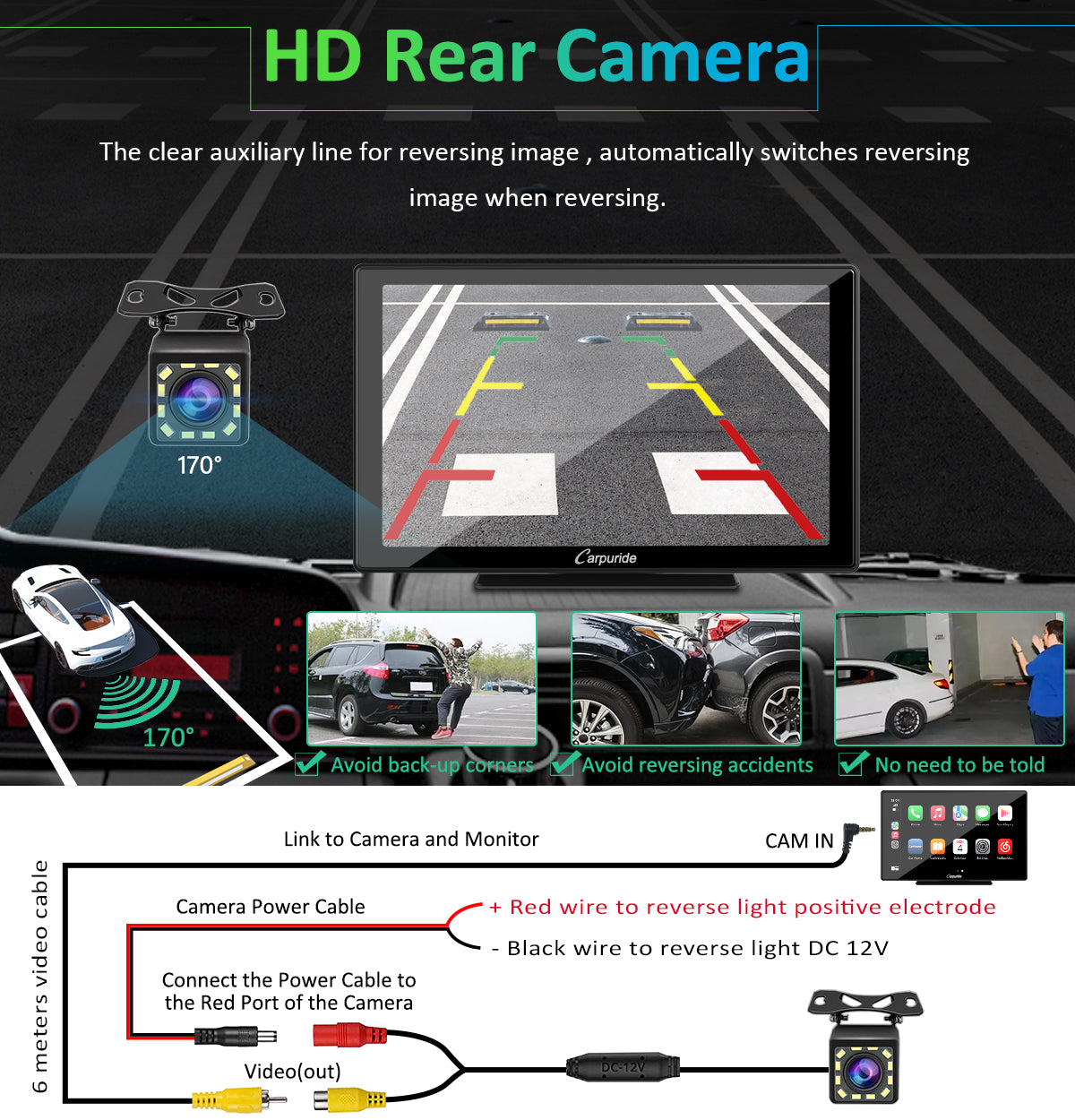 Comes with a waterproof night vision camera, when you plug in the cable, and you pull out the reverse gear, the wide view angle HD rear view camera gives you a clear view of what is happening behind your car and makes reversing easier and safer.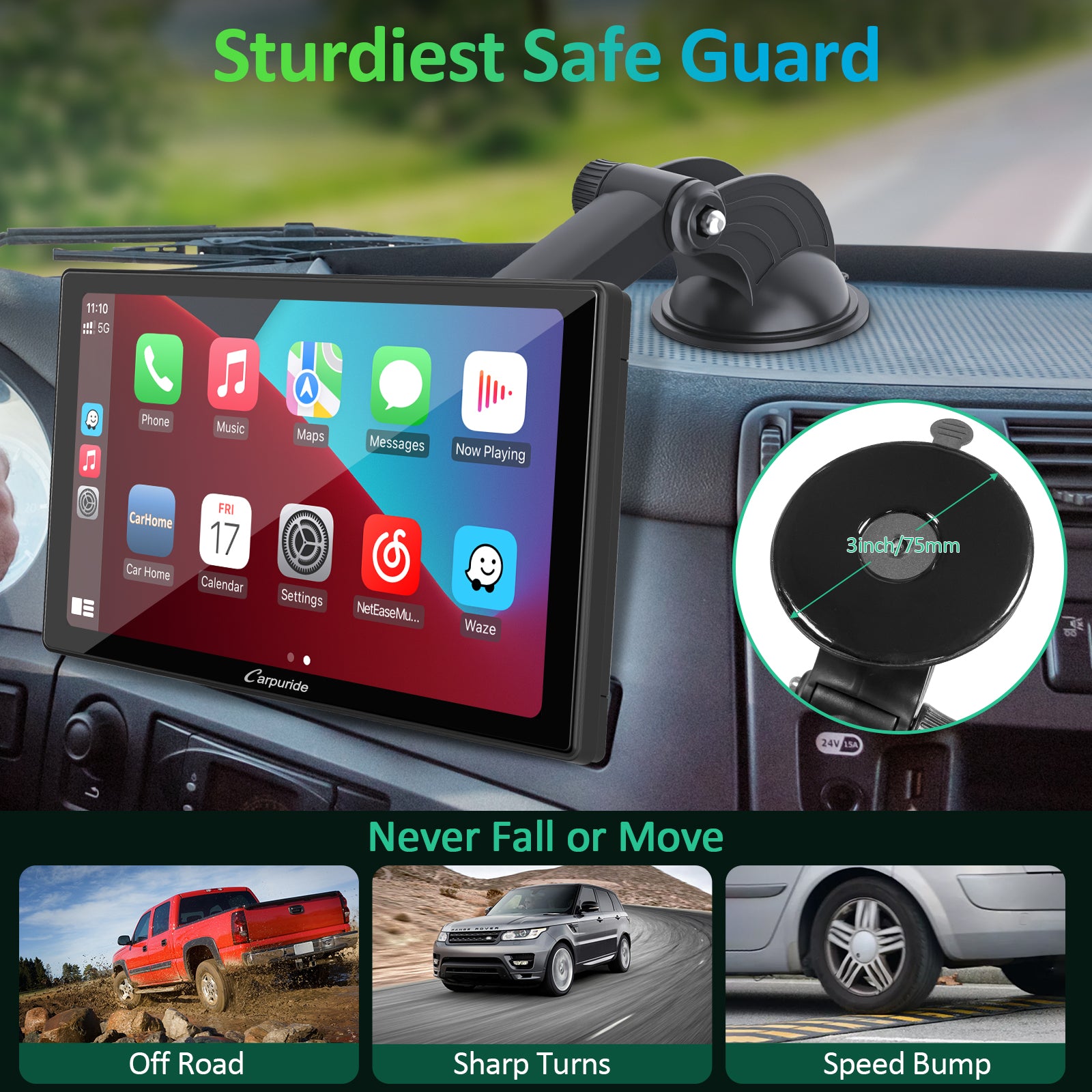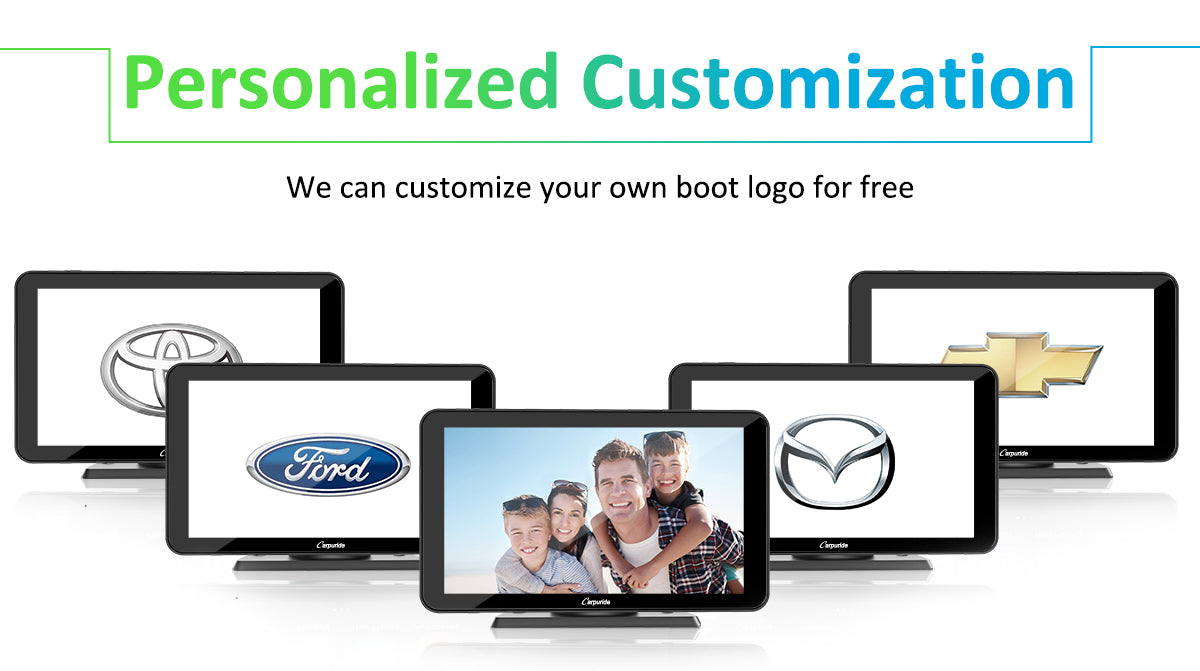 We can upgrade the boot logo for free, completely personalised. For example, set your boot logo to match your model, or set the boot screen to your preferred personal or family photo, etc. Simply send us your preferred boot logo or picture.
We are F2C and have our own factory. From research,design ,production and after-sales service, we carefully to control every link. Not only in the United States, but also in Europe, Japan and other places, we have overseas warehouses, which can quickly ship for you.

In order to provide customers with better service, we have established a professional customer service team. If you have any questions before purchasing or If you are not satisfied or do not understand during use, you can contact us through the official email address, and we will reply within 24 hours.

At the same time, our products provide 24-month quality guarantee, and We will also strive to improve our products and can upgrade the software for you for free, to provide you with a better experience.

E-mail: seller@carpuride.com
WhatsApp/Wechat/Line: +86 15914018419


Absolutely Fantastic!
I used to have a similar product (a 7" LCD monitor from a competetive company - same principles). But after upgrading to iOS17 on my iPhone12 pro, the CarPlay stopped working (I could still use Bluetooth, but CarPlay was what was important to me). Their customer service refused to help (they didn't even answere).
After some searching I came across Carpuride. I read/saw some reviews, and decided to hit the button and order this 9" version.
It worked INSTANTLY! I just love my new Carpuride, and I hope they support for firmwareupdates in the future too :)
I use my unit in 2011 mod Volvo XC70. And this is the perfect solution for what I was missing in the car (no multimedia screen integrated in the car).
My Car Stereo
I am happy with the Carpuride 9" IPS. I wish I could add more titles (apps) and that it would be more flexible like an android table. The funtionality between bluetooth and Android Auto keep blocking each other for not reason. I also would like to be albe to receive updates for the IPS touch screen.
Great So Far
I like everything so far. Back up camera is great too considering I've never had one before. I have a 2017 Jeep Wrangler. I can't really mount it on the dashboard without obstructing my view a bit with the dash mount. I used the windshield mount and that works but suction isn't as strong as I'd like and I wish the arm was more of a snake mount rather than the straight bar. Otherwise everything is pretty awesome. Just need to find a better mount system to have the display in front of the factory installed radio more. Setup was easy and connecting it via Bluetooth means less wires. If you're a little handy and can remove your dash to hide the wires like I did it will look super clean too. Great product so far.
Great product. Easy to install.
Will buy more. Great product at a great price.
CARPURIDE Car Stereo with Wireless Apple CarPlay&Android Auto, 9" IPS Touch Screen, Multimedia Player & Bluetooth 5.0 Audio Hands Free Calling, GPS/Siri/Google/Mirror Link/Light-sensing/EQ effect with Backup Camera