Description
Supports Wireless & Wired Connections:Apple Carplay&Android Auto / Mirror link /Only wired AutoLink/ USB Multimedia Player / TF Card Multimedia Player / Cam in/ AUX output
Screen: 10.3-inch HD IPS capacitive Screen

Support Voice Controls: Apple Siri & Android voice control & Google.

Multimedia Playback: USB + CAN IN +TF card Multiple input ports

Built-in: 5G WiFi + Bluetooth 5.0

Light-sensing: Automatically adjust the screen brightness according to the ambient brightness

EQ effect: Many different sound effect options

Three kinds of audio output: FM transmitter/AUX cable/ Built-in 3W speaker

AUX output: 3.5mm RCA

FM Frequency: FM 87.5 MHz to 108 MHz

USB Port: 5V 2.1A

Power supplied: Type-C 5V 2.5A
Note: A-Auto and MirrorLink cannot be full screen
The light-sensing design can automatically adjust the screen brightness according to the ambient brightness, protect your eyes and drive more safely.
 When playing music, click EQ. You can also choose rock, classical, jazz, and other sound effects.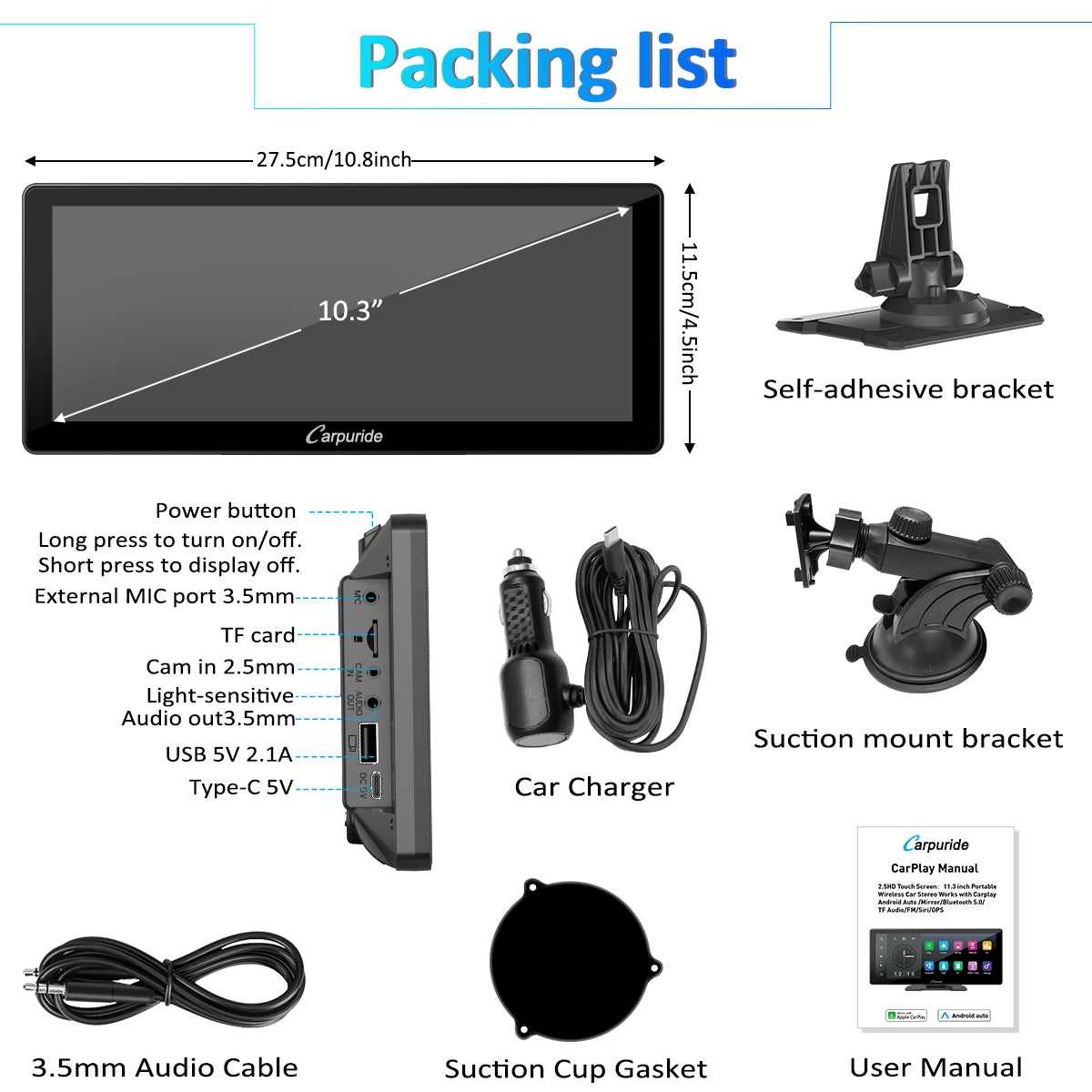 We can upgrade the boot logo for free, completely personalized. For example, set your boot logo to match your model, or set the boot screen to your preferred personal or family photo, etc. Simply send us your preferred boot logo or picture.
We are F2C and have our own factory. From research, design, production, and after-sales service, we carefully control every link. Not only in the United States but also in Europe, Japan, and other places, we have overseas warehouses, which can quickly ship for you.
In order to provide customers with better service, we have established a professional customer service team. If you have any questions before purchasing or If you are not satisfied or do not understand during use, you can contact us through the official email address, and we will reply within 24 hours.
At the same time, our products provide a 24-month quality guarantee, and We will also strive to improve our products and can upgrade the software for you for free, to provide you with a better experience.
E-mail: seller@carpuride.com
WhatsApp/Wechat/Line: +86 15914018419
W103
Great product. Everything I thought it should be.. If I can work out the mirroring I'd be set..
Inquiry before ordering
Hi! I have some questions before I order the CARPURIDE W103 Portable Smart Multimedia Dashboard Console!I would like to order the above product for Hungary. I have some questions before ordering. My car is a Hyundai ix35 2014, with a built-in 7" head unit, GPS, reversing camera, Bluetooth hands-free equipment. Does the product I want to order interfere with these? I want to order it because I don't have the Android car projection option (WAZE, etc.). There is an option in Europe deliver from the warehouse, because then I won't have extra costs!! Is it in Hungarian? My phone is Android 13, does the Android car work wirelessly? I expect your answer as soon as possible, because my order depends on it!! https://carpuride.com /products/carpuride-w103-portable-smart-multimedia-dual-bluetooth-dashboard-console?_pos=2&_sid=c944544c1&_ss=r
CARPURIDE W103
Buen producto, Carpuride OK.
Absolutely fantastic product.
The w103 works perfectly fine ! Super-easy installation. Boots in ~10 seconds, and starts the carplay instantly without any cable. There is also an opportunity to adjust screen brightness, which was absolutely cool !
Good quality, definitely recommended !!! Photo attached, Lexus LX570 2008
Great product, and problems were solved quickly!
Received my unit in Europe in 7 days from China. Super nice screen but my unit had a little problem. In 3 days, carpuride analyses the problem and sent me a new unit, which is now underway.