Description
Supports Wireless & Wired Connections:Apple Carplay&Android Auto / Mirror link /Only wired AutoLink/ USB Multimedia Player / TF Card Multimedia Player / Cam in/ AUX output
Screen: 10.3-inch HD IPS capacitive Screen

Support Voice Controls: Apple Siri & Android voice control & Google.

Multimedia Playback: USB + CAN IN +TF card Multiple input ports

Built-in: 5G WiFi + Bluetooth 5.0

Light-sensing: Automatically adjust the screen brightness according to the ambient brightness

EQ effect: Many different sound effect options

Three kinds of audio output: FM transmitter/AUX cable/ Built-in 3W speaker

AUX output: 3.5mm RCA

FM Frequency: FM 87.5 MHz to 108 MHz

USB Port: 5V 2.1A

Power supplied: Type-C 5V 2.5A
 Note: A-Auto and MirrorLink cannot be full-screen.
The light-sensing design can automatically adjust the screen brightness according to the ambient brightness, protect your eyes and drive more safely.
 When playing music, click EQ. You can also choose rock, classical, jazz, and other sound effects.
 Note: A-Auto and MirrorLink cannot be full-screen.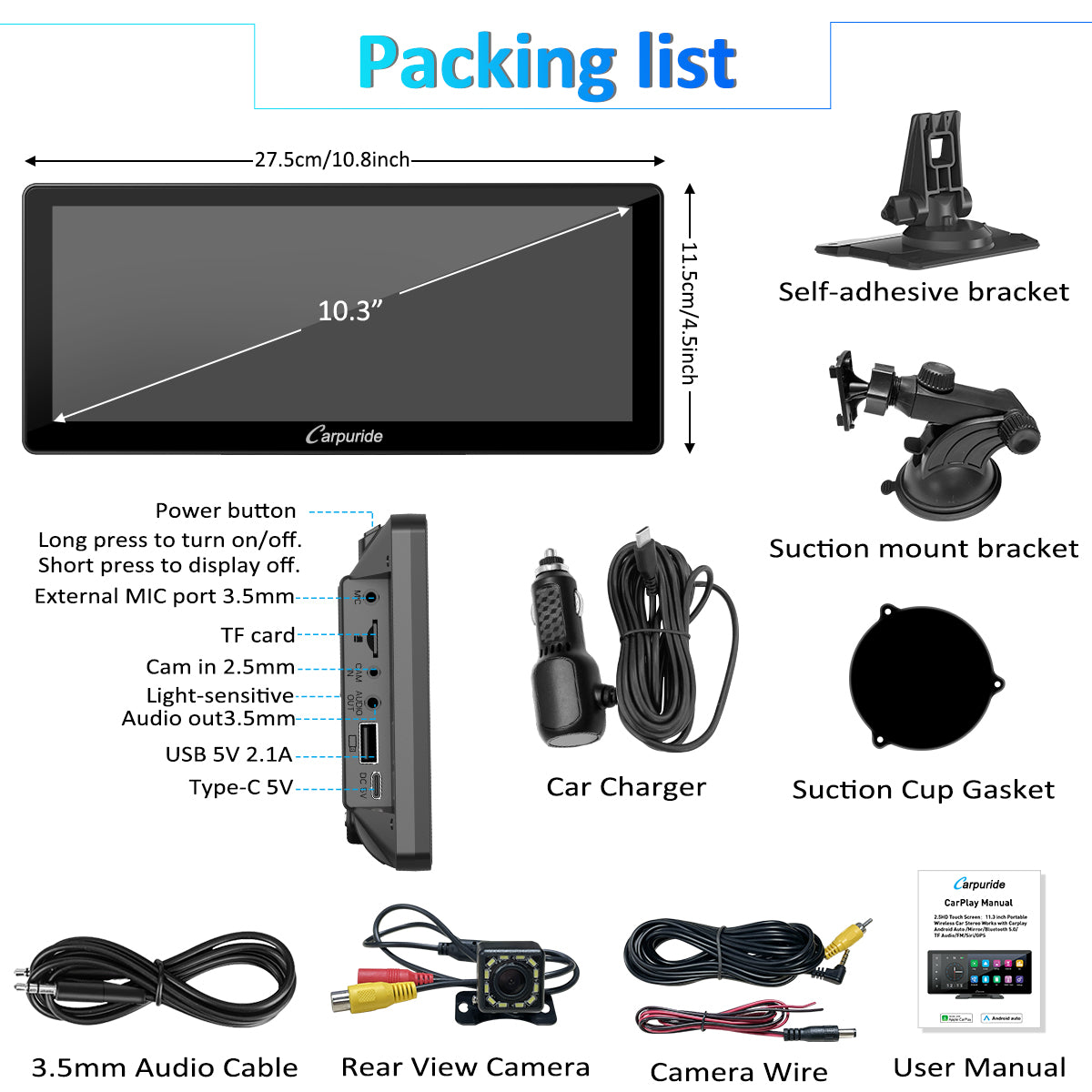 We can upgrade the boot logo for free, completely personalized. For example, set your boot logo to match your model, or set the boot screen to your preferred personal or family photo, etc. Simply send us your preferred boot logo or picture.
 We are F2C and have our own factory. From research, design, production, and after-sales service, we carefully control every link. Not only in the United States but also in Europe, Japan, and other places, we have overseas warehouses, which can quickly ship for you.

In order to provide customers with better service, we have established a professional customer service team. If you have any questions before purchasing or If you are not satisfied or do not understand during use, you can contact us through the official email address, and we will reply within 24 hours.

At the same time, our products provide a 24-month quality guarantee, and We will also strive to improve our products and can upgrade the software for you for free, to provide you with a better experience.

E-mail: seller@carpuride.com
WhatsApp/Wechat/Line: +86 15914018419
Happy with the W103
I always wanted a screen with a cinematic kind of ratio, and the W103 works well since my purchase and I'm happy with the amount of flexibility provided by the features. Also Carpuride sent me the custom boot image I had requested within a few days, and it works flawlessly... Really worth the price!
Great machine for old cars
Got vw Touran 2014 ordered direct from carpuride the w103 with camera easy to fit and connect within 5 mins no issues connecting fitted camera great picture except when start engine then it cycles black white but think this is vw issue and needs a cambus I believe not sure so waiting for one overall great machine love apple play now
Great upgrade
My classic vehicle was so old the radio didn't even have an AUX input. The Carpuride W103 fitted exactly into the available space and has transformed my driving experience, bringing it right up to date. Customer support has been fantastic providing me with software that customises the start up screen to exactly how I want it. I would highly recommend.
So far So Good
Not fitted yet but impressed with what comes in the box. It should satisfy any customer
Gfeat unit with wireless A-Auto!
Got the W103 unit, included everything needed for the setup. Fast bootup time, easy to use and best of all its actually wireless for android auto! Lots of there claim to be but these units actually are. Bright and clean interfaces. They do exactly as they advertise. Very happy and impressed with this product. I do want them to make a usb-c hardwiring kit tho.